The Latest Remote Control is Coming--by Teamgee
"Seahorse V20" large-screen remote control
Hey Teamgee Squad!
We hope you all had a fantastic day with your family and loved ones!
After a period of product development, we would like to announced a good news with all of you. The new remote control is coming, which is more delicacy and it can change mph from kph easily. What's more, we have upgraded the charging port of the remote control to be a USB Type-C port.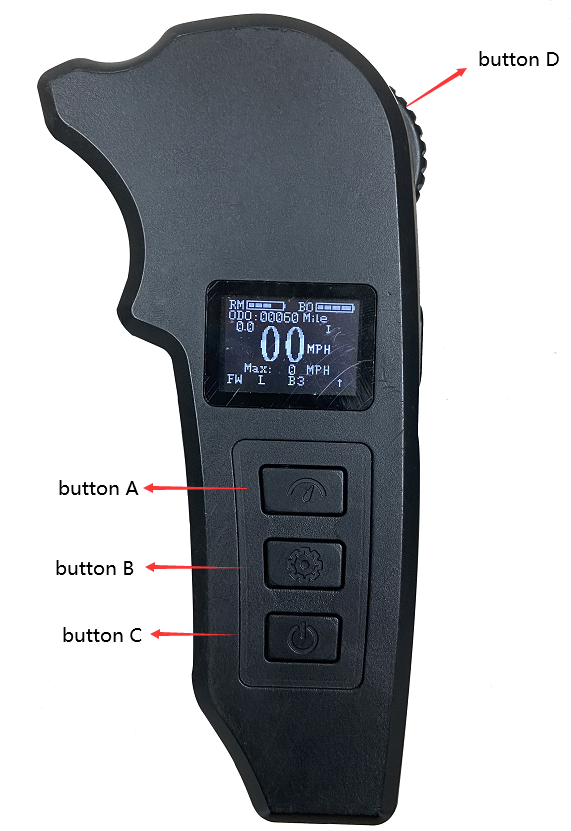 1. How to pair the remote with the skateboard?
Step 1: Long press to power switch for ten seconds on the skateboard.
Step 2: Pressing button A and button B simultaneously to complete the pairing process.

2. How to switch kilometers and miles?
Pressing button B and button C simultaneously, then toggling the button D to change between kph and mph.

3. How to reset the remote?
Pressing button B and button C simultaneously, then enter the settings mode to reset the throttle position. After entering the settings mode, roll throttle to browse different options on the remote interface and then toggle speed button to select settings options.  When the THUMBNHEEL shows "OK", means the reset was successful.
Screen display interpretation
1&2. Battery status of remote&skateboard.
3. Cumulate mileage.
4. Single mileage.
5. Current value.
6. Real-time speed.
7. Max speed of a single ride.
8. Forward/ Backward.
9. Speed mode.
10. Brake mode.
11. Connection signal.
Note:
Press speed switch button to choose four different speed levels: H+ ,H, M, L. H+ level is suitable for expert users for raising speed, while L level for beginners.
Pull down to the end of throttle, at the meantime, press speed switch button for brake switch. There are four levels of brake: B4, B3, B2, B1. B4 level is the strongest level while B1 the mildest.
Push forward accelerate throttle, at the meantime, press the settings/auto cruise button to enter auto cruise mode. The cruise speed depends on real time speed.
We hope that the new remote control will bring you more riding pleasure.